The Kheel Center ILGWU Collection
The International Ladies' Garment Workers' Union was the largest labor union to represent workers in the women's garment industry in the United States and Canada in the twentieth century, peaking at 450,000 members. The ILGWU was formed by the merging of several NYC unions in 1900 and continued until it merged with the Amalgamated Clothing and Textile Workers Union to form UNITE in 1995.
At over 2,500 linear feet, the ILGWU records are the most extensive and heavily used collection at the Kheel Center, the official repository of the ILGWU since 1987. This site presents highlights from the union's rich history and archives.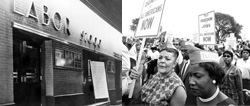 View photos, broadsides and banners
Read letters, pamphlets and speeches
Listen to recorded oral histories
Watch films and video